Irish Railwayana: miscellanea
---
The photo image choice page format, due to limited feedback (four replies over a year to four different sets of pictures) was modified substantially in May 1999.
What you got was a competition with actual prizes! There were three assorted GNR tickets for the winner and three GNR luggage labels for the runner up. These were not lottery style prizes, but were designed to encourage participation. The closing date was 16 August 1999, so there were up to three months to consider the best answers. The webmaster's decision on the winner and runner-up was final. Since he didn't actually know the answers either, this seemed strange. But the most convincing reference or justification won.
Winner at closing date was D. Cronin. But runner-up's place may still be awarded to a very late entrant.
Still in September 2002 waiting for the final convincing explanation for signs below.
In the meantime a query from my main correspondent Donnacha. Has anyone any idea on the on the origin of the railchair pictured below? Possibly early 1830's or 1840's. But flat-bottomed? Definitely Irish.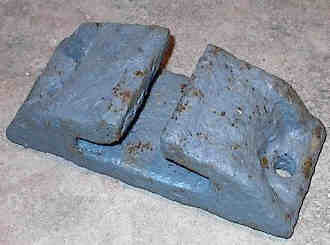 Unidentified railchair
The background is that all signs came from a Northern Ireland collection in the Strabane vicinity. There were quite a number of GNR, MRNCC plus one or two BCDR pieces.
Three questions, four mystery pictures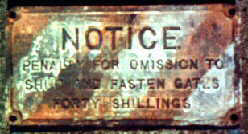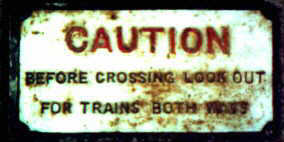 QUESTION 1: A two-sided sign shown above. The main requirement for the competition is, of course, the company of origin, with your justification for this. However, those expert in the matter might give the perplexed webmaster some ideas on how it was expected that this particular sign might be affixed by four bolt holes in the corners to show both sides (a clue, perhaps, in photo 1!), or was it just a 'choose the most appropriate side' sign?
Tim Petchey reckoned BCDR. But John B. confirms 'definitely GNRI'. DC produces a photo from 'Broken Rails' new book on accidents. Photo taken in 'Co. Down' unidentified location includes what looks like the mystery sign in background, attached to gate, along with what looks like an early GNRI trespass.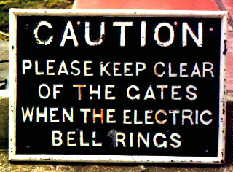 Believed to have come from King Street, Newry. Source: R.A. John B. confirms GNRI origin.
QUESTION 2: Company of origin required again for the sign shown above, with your justification.

QUESTION 3: A BNCR (GNRI?) station room sign is shown above. (Two others, Station Master and General Waiting Room 3rd class, are shown on my Irish railwayana GNRI data page). However, the second line seems to have been ground off and has been replaced by a carefully painted "1st & 2nd class". This time, suggestions as to when, why, what, if anything, was there before, will be considered as answers to the third question.
Originally thought to be GNRI (Two others, Station Master and General Waiting Room 3rd class, are still shown on my GNRI lineside data page). Some doubt as Tim Petchey thought BNCR, but John B. confirms "it is absolutely GNR(I) standard pattern, to be found everywhere on the system"
To enter the competition, or make comments, send me an email.
What is the sign below? Railway or what?
There is another A477. Both have traces of CIE type green. Diameter of circle is 9 1/2 inches, length 29 inches. That's about all!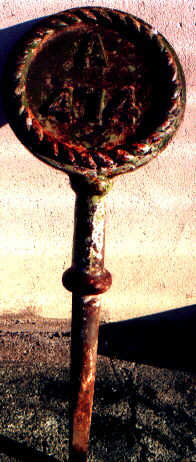 ---

Return to Index page, or go to page 10, Links.


Alternatively, go to my railwayana.com pages for company data


For genealogy, go to my Lennan genealogy pages or their mirror on this site