Descendants of William Lennan 1804-1882 and John Lennan 1800-1864
---
On this page the genealogies of two other branches of Lennan leather tradesmen of Dublin are outlined.
The saddlery business of William the inventor of the Lennan stirrup, and his son William Francis (who became a partner on 1/1/1869), who advertised other innovations (including a safety buckle and safety reins), is the most illustrious, with its main premises in 29 Dawson St. opposite the Mansion House, and branches at 15 Arthur Square & Union St., Belfast and St. Patrick's St., Cork as well as, in 1887, having a continental depot at 210 Rue de Rivoli, Paris. There was a court case in the December 1872 for libel against two employees (members of the United Trades Association) of the firm and the union secretary for alleging in writing to a purchaser, Lord Listowel, that saddles were being imported and being passed off as made by the firm in Dublin (see report of proceedings). The firm won the case, although it would seem that the defendants allegation that the saddle was not made by the firm had substance, and the defendants received jail terms. Saddles made by the firm were reportedly used by the King of the Belgians in 1875 and ex-President Grant of the US in 1883, as well as having a Royal Warrant in the UK. Products were exhibited widely and various medals were reportedly received. The business, subsequently Lennan Son & Co. Ltd., went into liquidation in the second half of 1903. The premises (29, 30 & 31 Dawson St and premises at rear to St. Stephens Green) and stock was auctioned on behalf of the liquidator on 2 February 1904. The residence in Orwell Road was advertised for sale on 17 June 1905, by W.F.Lennan, Standard Hotel, Harcourt St. and William and his wife, presumably shortly thereafter, moved to London. She died in Kensington in 1915 and he died in November 1923 in East Croydon. More material on William's business is already provided on page 2 of this site.
The second branch is that of John Lennan the shoemaker. Both his sons, Oliver and Patrick Joseph Lennan, were saddlers in the second half of the century. Patrick Joseph Lennan, with premises at Lower Pembroke St., advertised himself regularly as the 'Practical Saddler' who 'makes really best harness at moderate prices' in the late 1880s and the 1890s leading to various more prominent ripostes from Lennan & Son, that they should not be confused with others, that Dawson St. was their only address, that they had no connection with anyone of a similar name, or that they wished to correct the erroneous impression prevailing that they have a branch establishment in the city, etc. The son of Oliver, William Patrick, was a harness maker, and two of three (the other died aged 4) sons of Patrick Joseph, a second William Patrick and Frederick, were saddlers, while his eldest daughter, Mary Newth née Lennan, ran Lennan's trunk shop, the shop front of which, at 48a Rathmines Rd., remained intact until around 1960.
Together with the two (or one!) James' on the previous pages (the males lines of both of which show a perfect y-DNA match on 67 out of 67 markers - a perfect score, showing a common male ancestor within a few generations), all branches here are thought to be related. For the John line, as a child, I visited Mary Newth (daughter of Patrick J. Lennan saddler) several times with my parents and was told that she was a cousin. I could not quite understand at the time how this elderly lady could be a cousin and what "removed" had to do with it. A link to the second James line is also suggested by the fact that John Joseph (son of James), who fought in the Boer War, served as an apprentice to Patrick Joseph Lennan, Mary Newth's father. The link with William's branch is more tenuous and relies on the William Lennan saddle plate that has come down the generations of my family and the common Pitt St. address before 1840. An intriguing possible James is one who appears in the London 1901 Census in a Little Sisters of the Poor home in Kensington, described as a widower, occupation saddler, birth Dublin, Ireland, aged 67 (implying an 1834 birth - a bit late to have a son John in 1850 - and does not fit with the entry on John's marriage certificate that his father James was deceased in October 1872). Another hint of the same James is an advertisement on 6 January 1873 in the Irish Times advertising the Dawson St. Lennan products, which could also be had from J. Lennan, Saddler to the Prince of Wales, 2 Hart Street, Grosvenor square, London. But the top of the line link between all branches in the first half of the 19th century has not yet been established, given the paucity of Irish documentation in that era.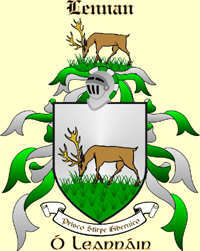 Descendants of William Lennan 1804-1882



Generation No. 1

WILLIAM LENNAN was born 1804 (on basis of age at death. Birthplace yet to be identified), and died 19 Feb 1886 at 18 Brighton Sq., Rathmines, Dublin S. He married MARY who was born in 1808 and died on 20 Feb 1873 at Sylvan Lodge, Terenure, Dublin S.. William was a saddler and harness maker with premises and a livery stable at 29 Dawson St. Dublin S. from 1840 (subsequently extended). Before that in 1837 and 1838 he was at 7 Pitt St.. The saddlery firm became William Lennan & Son from 1871. The son was William Francis who, by virtue of his marriage to Julia Poett, had strong connections to British India. These connections were reflected in a subsequent trend for descendants and in-laws to hold high office in the army and to have acquired a V.C (Crimmin) and, in later years, to acquire a Military Cross (N.T. Lennan) in WWII.

Children of WILLIAM LENNAN and MARY could be:

i. ROBERT TIMOTHY LENNAN, b. 2 Feb 1836 St. Andrews (of William Lennan & Mary); d. unknown.

ii. JANE LENNAN, b. 4 Jan 1837 St. Andrews (of Wilm Lennan& Mary, wit: Patk. Lennon); m: of 15 Drury Lane, WILLIAM BEHAN of 5 Fade St., 9 Sep 1860; d. probably Q1 1867.

iii. MARIA P. LENNAN, b. 10 Dec 1837 St. Andrews. (of Wilm Lennan& Mary wit: Mary Ledwitch); d. unknown.

1v. WILLIAM FRANCIS LENNAN, b. 13 Dec 1840 Dublin S.; d. 20 Nov 1923. William Francis was a saddler and harness "manufacturer" later described variously as a merchant/trader.

v. MARY LENNAN, b. 26 Oct 1842 St. Andrews (of William Lennan & Mary, wit: Anne Lennan); d. unknown.

vi. CATHERINE MARY LENNAN, b. (7 Jan) 1844 St. Andrews (of William Lennan & Mary, wit: Anne Lennan); d. 9 Mar 1881 at 7 Brighton Sq., William witness

vii. MARY ANNE LENNAN, b. 1846 St. Andrews (of William Lennon & Mary); m. James Barrington, shoemaker 59 Bride St., 18 May 1873; d. ?1894?.

With William Francis and Catherine Mary being the only obvioua children.

Other more unlikely possibilities are:

AUGUSTINE DAVID LENNAN, b. (8 Mar) 1849 Dublin S.; of 11 Ellis Quay, mother Wall, m. Frances Crowe on 24 Apr 1898, d. unknown. While his mother was Wall his father was James Lennon, upholsterer

ELIZABETH AGNES LENNAN, b. bef 1854; d. unknown. She married LAUNCELOT WEIR on 19 Feb 1873 in the Procathedral, Dublin N. No.1. Launcelot was a gentleman, son of WILLIAM WEIR gent, he died 1880 in Dublin N.. But the mother of Elizabeth was given as Catherine.




Generation No. 2

WILLIAM FRANCIS LENNAN (WILLIAM) was born 13 Dec 1840. He married JULIA TERESA POETT on 13 Apr 1874 in Terenure, Dublin S. She was born in 1850 in Exeter (or Poona, Bengal according to another source), the daughter of JOHN JOSEPH POETT, retired major in H.M. Indian Service, and died on 5 Mar 1915 in Kensington, London. William lived variously at 18 Brighton Sq. E. Rathgar (James Joyce lived there at one stage in later years), 6 Victoria Tce., Rathgar, Sylvan Lodge, Terenure and St. Ronans, Orwell Rd., Rathgar and subsequently in locations in London (Euston Hotel and 154 Lr. Addiscombe Rd., East Croydon) living at Elham, Kent with Julia in the 1911 UK Census. William Francis died on 20 Nov 1923 at 5 Lansdowne Rd., East Croydon, London.




Children of WILLIAM LENNAN and JULIA POETT are:

i. JULIA MARY JOSEPHINE LENNAN, b. 26 Sep 1876, 6 Victoria Tce., Rathgar, Dublin S.; m. JOHN CRIMMIN V.C., Surgeon Major Indian Service 54 Kenilworth Rd. & Bombay, on 29 Oct 1900 in St. Joseph, Terenure, Dublin S.; b. 19 Mar 1859, in Dublin and d. 20 Feb 1945 in Wells, Somerset. Julia d. in Wells on 21 Jan 1952.

ii. DR. FRANCIS JOSEPH LENNAN, b. 25 Feb 1879, 6 Victoria Tce., Dublin S.; d. 14 Aug 1922, at 2 Frankfort Ave., Rathgar, Dublin S.; m. PHILLIPA MARY CHRISTINA EVANS on 5 Jul 1905 at Three Patrons, Rathgar; b. 1881; d. 4 May 1962, 96 Leeson St. Lr., Dublin S. They were living in Croydon, Surrey in the UK 1911 Census. They had one son born QIII 1913 in Croydon, a second son born there QI 1915 and a third son born 1918. Their second son married Elizabeth Hutton Bowes Wilson (born 13 March 1912, died August 1989, Swansea, Glamorgan) in Calcutta, India on 2 March 1939. He was awarded the Military Cross in 1945 when an acting Major, and had a daughter born circa 1946. His wife Elizabeth was commissioned in the Auxiliary Territorial Service on 26 February 1942.




Descendants of John Lennan 1800-1864 (Possibly more than one John)
Generation No. 1
JOHN LENNAN, a boot and shoemaker, was born 1800 at 7 Pitt St., Dublin S. No. 4., and died 4 Jan 1864 in St. Vincents Hospital, Dublin S.. He, or another John, married MARY TOOLE on 2 Jun 1828 in Booterstown, Rathdown. She was born 1802, and died 23 Nov 1879 at Glasthule, Kingstown, Rathdown. This John or another John married an Anne.
Children of JOHN LENNAN and ANNE are:
i. OLIVER JOHN LENNAN (JOHN), (son of John Lennan and Anne wit: William Lennan and Bridget Ledwich) was baptised at St. Andrew's in 1844. An Oliver Lennon of 52 Clarendon St., f. John Lennon, married ELIZABETH LOGAN of 10 Pitt Street, daughter of RICHARD LOGAN, on 9 (from the GRO) and 10 (St. Andrew's Church records) Jan 1867. The Civil record gives Oliver Lennan's occupation as a saddler and his father John Lennan was a shoemaker and Elizabeth's father Richard Logan was a musician. Witnesses were Elizabeth O'Brien and Anne Flanagan (an Anne Flanagan was later to marry Oliver's younger brother Patrick Joseph) at the Registry Office and Michael Gormley & Elizabeth O'Brien at the Church. The one Eliza Lennon death between 1867 and 1872 was not Elizabeth. An OLIVER LENNAN, presumably the same Oliver, but a bachelor, no occupation given, son of John Lennan, again no occupation given, of 60 Kevin St. married ELIZA CONROY of 1 Aungier St. on 15 Sep 1872 in St. Andrew's, Dublin S.. Eliza was a daughter of PATRICK CONROY. Witnesses were Patrick Lennan (presumably Oliver's brother) and Theresa Duffy. The church record had the same information. She died bef. 1916. An Oliver, harness maker, d. 4 Mar 1916 a widower from 4 Werburg St. at the SDU Workhouse, Dublin S. No. 1.
ii. PATRICK JOSEPH LENNAN (JOHN) was baptised as Patrick Lennan in 1846 at St. Andrews, Dublin S. No. 4 (parents were John & Anne, wit. were James and Susan Lennan). A Patrick Joseph Lennon (of John Lennon & Mary Ball, wit: Wm McGavran & Mary Walsh) born on 20 Mar 1846 at St. Nicholas was not considered since his mother's name did not fit. PATRICK married ANNE FLANAGAN on 17 Nov 1872 at St. Michan Dublin N. No. 2., daughter of TIMOTHY FLANAGAN. She was born in 1841 and died 17 Dec 1886 at 15 Ely Place, Dublin S. No. 4.. He married CATHERINE MARY RYAN on 29 Nov 1890 in Malborough St., Dublin N. No. 1., daughter of JAMES RYAN. She was born in 1866 in Dublin. Patrick was a saddler/harness maker with premises respectively at 11 O'Connell St., 23 O'Connell St., 34 Lr. Gloucester St. and 38 Lr. Pembroke St.. He served a prison term in 1905 for assaulting his daughter Kathleen. Applications to live in Simpson's Hospital exist from 1910. He was living at his eldest daughter's trunk shop at 48a Rathmines Rd in 1911. He died on 19 May 1919 at the R.D.L. Asylum.
iii. WILLIAM LENNAN, (son of John Lennon and Anne, wit; Joseph and Susanna Lennon) was baptised 1848 at St. Andrews, Dublin S. No. 4 d. unknown.
Generation No. 2
Children of OLIVER LENNAN and ELIZA CONROY are:
i. WILLIAM PATRICK (GRO or Church WILLIAM JOHN) LENNAN, son of Oliver saddler and Eliza, was b. 21 Oct 1873, at 2 (3 in Church data) New Row, Dublin S. No. 3, Witnesses were William Lennon & Eliza McDonnell according to Church data. William, son of Oliver, was also a harness maker from 28 Sth. King St. m: ELIZABETH SALMON on 26 Apr 1903 at St. Andrew, Dublin S. No. 4. Elizabeth was b. 30 Aug 1874 in Dublin S..
ii. ANNE LENNAN, daughter of Oliver Lennan and Eliza Conroy was b. 9 Nov 1880 (error of 1881 in GRO, St. Audoen gives 1881, the correct date) at 3 Werburgh St., Dublin S. No. 2.; m. EDWARD DOWMAN, labourer; on 24 Aug 1902 at the Catholic University Church, Dublin S. No. 3, d. Meath Hospital late of 10 Montague Place 31 Dec 1905. Children were CHRISTOPHER DOWMAN b. Dublin 19 Dec 1902 and EDWARD DOWMAN b. Dublin 10 Sept 1904
iii. ELIZABETH LENNAN, b. bef. 1887; m. JOSEPH COURTNEY, on 27 Apr 1908 a coach trimmer, at St. Nicholas, Dublin S..
Children of PATRICK LENNAN and ANNE FLANAGAN are:
i. MARY LENNAN, b. 30 Sep 1873 at 11 O'Connell St., Dublin N., m. EDWARD JAMES NEWTH, bootcutter and subsequently a director of the New Ireland Assurance Co., son of Edward Newth, on 28 Aug 1907 in Rathmines, Dublin S.; Edward d. as Eamonn on 5 May 1949 at the Hospice, Harold's Cross, Dublin S. late of 68 Rathgar Rd.. Mary died 4 Aug 1962 at Harold's Cross Hospice, late of 3 Lr. Churchtown Rd.. Child of Mary and Edward is MARIE TERESA BOYLAN-NEWTH, b. 6 May 1927; m: THOMAS KIERAN O'SULLIVAN, b. 8 Sep 1931, a carpenter, on 8 Apr 1964 at Church of the Assumption, Milltown, Dublin S..
ii. WILLIAM PATRICK LENNAN, b. 1 Mar 1877 at 34 Gloucester St. Lr. Dublin N. No. 1. William was recorded in the UK 1901 Census as a boarder at 176 Gt. Colmore St. Birminghan, aged 25, and being a saddler at Edgbaston, Warwick, UK.
iii. JOHN JOSEPH LENNAN, b. 24 May 1879 at 34 Gloucester St. Lr. Dublin N. No. 1; d. 19 Apr 1884 at 15 Ely Place, Dublin S. No. 4.
iv. FREDERICK LENNAN, b. 26 Jul 1880 at 2 Seafort Parade, Blackrock, Rathdown. Frederick was recorded in the UK 1901 Census as a boarder at 176 Gt. Colmore St. aged 21, and being a saddler at Edgbaston, Warwick, UK. Frederick married MARGARET FARRELL, daughter of WILLIAM FARRELL, on 12 Jan 1916. Frederick was recorded as being a soldier. Child of Frederick and Margaret was "blank" Lennan, born 31 Dec 1922. Margaret d. 5 Feb 1934. Frederick, previously of 11 St. Vincent's St., Portobello, Dublin, died at Shanakiel Hospital in Cork 12 Sep 1952 aged 75.
Children of PATRICK LENNAN and CATHERINE RYAN are:
v. ANNE MARY LENNAN, b. 10 Oct 1891 at 8 Pembroke St.Lr., Dublin S; No. 4; married PATRICK J. KAVANAGH on 3 Oct 1934 at Rathmines, Dublin S..
vi. KATHLEEN MARY LENNAN, b. 1 Feb 1893, 8 Lr.Pembroke St. Lr. Dublin S. No.4. A Kathleen Esther Lennon d. of Patrick Lennon, merchant m. Joseph Gabriel Allen a Solicitor on 27 Apr 1936.
vii. JOSEPHINE MARGARET LENNAN, b. 12 Jul 1894 at 8 Pembroke St. and d. 1978.

---

Return to Lennan index page, or advance to the Lennans in Irish Times page


Or to data for the index to Lenn*n entries.


Alternatively, go to my railwayana.com pages for Irish railway data


Or even, go to my railwayana auction price pages