South Africa 2006 - Itinerary
---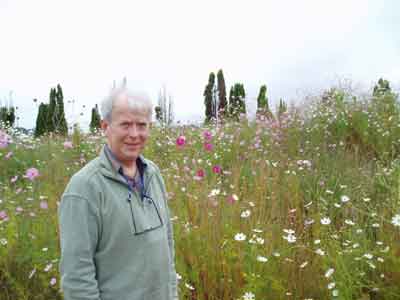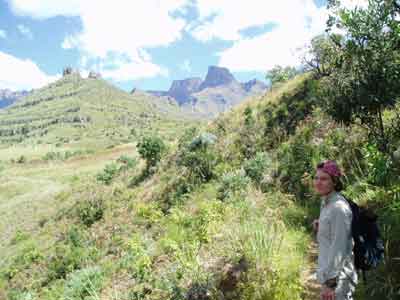 Ken and Patrice
The 2006 trip
Below is the 2006 South African itinerary. Essentially it reproduced much of our 2004 tour but with more time in places we liked and much less "seeing every sight".

Sunday 9/4: Brussels-Frankfurt, Frankfurt-Jo'burg.
Monday 10/4: Arrival. Pick up car. Get out of Jo'burg. To Malkerns in Swaziland and the very comfortable Foresters' Arms. Stay two nights and eat and drink too well.
Wednesday 12/4: Head for Bergville in the Drakensberg mountains and the Sandford Park Hotel for three nights and two days of serious hikes. The hotel fine but less good than we had remembered.
Saturday 15/4: A really long drive, with 7.30 start, to Die Tuishuise in Cradock. Get there very early in the afternoon against everybody's advice on the odds. Stay again in the best hotel in the world, where you get your own whole house, unfortunately only for one night. A great meal is provided in the convivial main hotel with fresh flowers in abundance and a particularly gracious hostess. Took the opportunity to visit the more fashionable Graaff Reinet and discover that Lennons were there, in terms of an omnipresent pharmacy.
Sunday 16/4: To vicinity of Addo Elephant Park and stay in Chrislain B&B for two nights. Weather bad. Elephants hiding. Many cars get stuck on unmetalled roads but our bottom of the line VW Chico gets through when permitted!
Tuesday 18/4: Headed to the coast. Stayed at Mossel Bay very cheaply in a train by the beach with the backpackers. For a railway enthusiast some great SA numberplates on display.
Wednesday 19/4: To Stellenbosch. Stay in De Oude Meul in the center of town for two nights. Wine tasting already started on the way there. Nice meal one night in the Stellenbosch Hotel.
Friday 21/4: Two nights in the Mooikelder in Paarl, visiting Franschoek again on the way. While the town of Paarl, apart from wineries, might be missed, the Mooikelder is something special - an ex-Rhodes domaine with most pleasant hosts.
Sunday 23/4: To Cape Town taking in Groot Constantia again and the Victoria and Alfred waterfront mall, with a fine meal at our favourite Ocean Basket. Stayed in the Airport Lodge - very functional, apart from the usually absent wake up call, for a 7 a.m. flight home.
Wineries visited and sampled: Boschendal, Simonsig, Vergelegen, Fairview (great athmosphere with the goats and friendly pourers), Ridgeback, KWV (hard to find), Muratie (special), Delheim, Delaire, Franschhoek Vineyards, Nederburg, La Motte, Kanonkop, Blaauwklippen, Groot Constantia, Seidelberg, plus a few unrecorded others.



---

Go to Lennon Ltd., Chemist, South Africa page


Skip to Sri Lanka trip page


Return to main South Africa page


Or go to data for the index to Lenn*n entries.


Alternatively, go to my railwayana.com pages for Irish railway data


Or even, go to my railwayana auction price pages