Botswana, etc. 2003 - Itinerary
---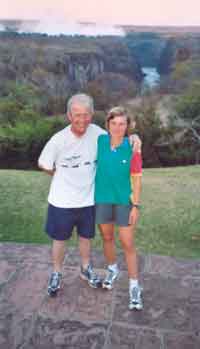 Victoria Falls Hotel. (Courtesy: Jean-Marie)
The trip
Below is a very rough sketch of my recollection of our African itinerary. Some of the exact events may be recorded in the wrong days or missed and places may be confused. But it does provide a broad indication of the trip.

Saturday 5/7: TGV Train Brussels-Paris Airport, Paris-Frankfurt, Frankfurt-Jo'burg, Jo'burg-Victoria Falls (Zimbabwe)
Sunday 6/7: Arrival. 8 on trip met by French guide (a formidable 52 year old French woman who lives in Zambia and spoke both EN & FR), African driver and African cook. Into Mercedes high truck with windows. Drive out of Zimbabwe into Botswana, first of many elephants seen, camp in bivouac at camping site.
Monday 7/7: Longish drive across North Kalahari, stop in Nata, then to Maun. 1 hour flight over Okavango Delta in two six seaters, ours with an intermediate stop to deliver supplies at a pretty basic landing strip. See many zebras, elephants, hippos, etc. from the air. Camp in Maun.
Tuesday 8/7: Drive to Tsodilo Hills. Only hills for hundreds of miles. Camp.
Wednesday 9/7: Climb hills at Tsodilo with Bushman guide and inspect rock art. Buy first baskets at museum. Camp.
Thursday 10/7: Tsodilo-Makwena. Camp beside Okavango river. Boat trip on river. Friday 11/7: Taken in pirogues (carved out tree trunks - two seaters with driver standing and propelling with pole - ours a lady driver) along channels in delta. Set up camp in wild. Fire maintained all night by drivers. Lions and elephants noisy at night.
Saturday 12/7: 2 hour walk in wild. Giraffes, elephants, hippos, viewed. Drive into Namibia. Even rougher dirt roads. Popa Falls. Kongola. Camp on banks of the Kwando River
Sunday 13/7: Visit traditional village. 4x4 vehicle in Muduma Park. Animals. Camp in same location.
Monday 14/7: Drive along strip of Namibia beside Angola (and occupied by them until recently pursuing UNITA rebels). No pictures allowed. Many soldiers. To Katima Mutillo. Pretty wild market - dried fish (with extra protein!), various teas etc. meat with flies. Camping in wild near river. Many hippos. Great noises at night. Guide exceedingly nervous of hippos.
Tuesday 15/7: From Katima back into Botswana to Kasane. Camping in Lodge at Chobe River. Bit away from river since crocodiles have been know to pull tents with inhabitants into river if too near.
Wednesday 16/7: Morning in fast boat on Chobe river. Thousands of animals and exotic birds. Afternoon in a 4x4 in Chobe National Park. Elephants, various types of antelopes, giraffes etc. all over. First cats seen. A pride of lions finishing lazily a water buffalo. Night in same camping.
Thursday 17/7: From Kasane to Victoria Falls. Changed money at unofficial rate 1900 Zim$ to 1US$ (official rate 600). But our leader needed a sack for the proceeds of the $200 from the group. Afternoon on retired polo horses in bush. Interesting that animals (impala and water buffalo) don't notice humans on horses. Group decided to eat in style. Went to the magnificent Victoria Falls Hotel. Had the buffet which worked out at about $15 each. Tried individually cooked crocodile and impala, passing on the more usual choices. Two other tables occupied, so as many waiters as clients. Great hilarity in group counting out wads of money at the end. Evening in bungalows in Victoria Falls and actual beds!
Friday 18/7: Rafting between rapids 10 and 25 after the falls on the Zambese. Scary. Nearly as scary getting down the cliff face to the rafts. Ours was, thankfully, the most unadventurous raft with the most senior driver. Did we want to flip. No thanks. And we didn't. In our raft, only Patrice fell in after a rapid change from forward paddle to backward paddle. But I suspect our paddling was academic and the driver was doing all the work with his two big oars. Afterwards visited Victoria Falls on the Zambian side. More impressive than Niagra. Much spray. Two rainbows. Got very wet for the second time in day. Walked back over bridge into Zimbabwe, meeting up with other 4 in our group who had chosen to fly in microlites over falls instead of rafting. As always in Zimbabwe braving all those trying to sell carved hippos etc. or wanting to change money or get us a taxi. Evening dinner in another nice place eating same exotic animals. Back to bungalows.
Saturday 19/7: Shopping in Victoria Falls and disposing of all Zim$. Everything cheap. Airport at midday and long trek down to South Africa (more shopping there), up to Frankfurt, across to Paris and eventually back to Brussels arriving at 2p.m. Sunday.




---

Go to African pictures from others page


Return to Africa 2003 page


Or go to data for the index to Lenn*n entries.


Alternatively, go to my railwayana.com pages for Irish railway data


Or even, go to my railwayana auction price pages