South Africa 2006 - Itinerary
---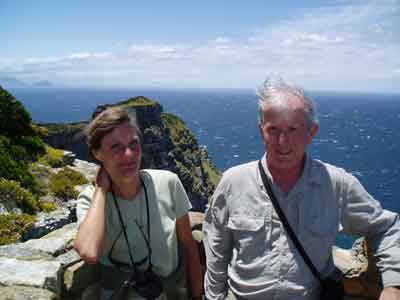 At Cape of Good Hope.
The trip
Below is a very rough sketch of my recollection of our South African itinerary. Some of the exact events may be recorded in the wrong days or missed and places may be confused. But it does provide a broad indication of the trip.

Saturday 18/12: TGV Train Brussels-Paris Airport, Paris-Frankfurt, Frankfurt-Jo'burg.
Sunday 19/12: Arrival. 14 on trip. Met by guide Materne and driver MZ from African Eagle. Into our van, visited Johannesburg and guided tour of Soweto from a resident, including Nobel prize alley (D. Tutu & N. Mandela). Visited Pretoria. Ate many varieties of meat at the Carnivore Restaurant.Stayed at Courtyard Hotel at Eastgate.
Monday 20/12: Headed for Hazyview, visiting the old gold town of Pilgrims' Rest and Blyde River Canyon (the third largest canyon in the world, after the Grand Canyon in the US and Fish River Canyon in Namibia) on the way. Stayed in Sanbonani Hotel.
Tuesday 21/12: Kruger Park South. Day on safari. Back to same hotel.
Wednesday 22/12: Headed across the border to Mbabane, capital of Swaziland (see map). Visited the 'Happy Valley' and the swazi candle factory at Malkerns as well as the Ngwenya glass factory. Stayed at Foresters' Arms hotel.
Thursday 23/12: Departed for Lavumisa. Travelled through the plains of south western Swaziland crossing back into South Africa. Headed for Hluhluwe. Afternoon safari in Hluhluwe-Umfolozi reserve. Stayed at Heritage Zulu Nyala hotel.
Friday 24/12: Visited the Zulu village next to hotel. Then to Durban on the Indian Ocean. Visited the city, its Indian market and botanical gardens. Night at Riverside Hotel on the Umgeni River.
Saturday 25/12: Headed for Bergville. Explored and hiked in the Drakensberg mountains , a World Heritage Site. Stayed at the Sandford Park Hotel which started its life as a coach house in 1850.
Sunday 26/12: Headed for Bloemfontein. Visited Golden Gate Highlands' National Park in mountains at edge of Lesotho. Visited the National Women's Monument which commemorates 26,000 Boer women and children who died in the Bloemfontein concentration camp during the Anglo-Boer War to interned Boers and the city of Bloemfontein, the judicial capital of South Africa. Stayed at Holiday Inn Bloemfontein.
Monday 27/12: Set out for Graaff Reinet/Cradock. Safari in Mountain Zebra national park. Stayed at Die Tuishuise hotel in Cradock consisting of 20 or so restored 1840's houses on both sides of one street.
Tuesday 28/12: Headed for Port Elisabeth. Another safari in Addo Elephant Park. Spent night at the quaint Tsitsikamma Village Inn near Plettenberg.
Wednesday 29/12: To Oudtshoorn. Visited world's longest bungee jump 220m, but no takers from group. Swimming at Plettenberg Beach on the garden route. Visited the town of Knysna. Visited Highgate ostrich farm. Patrice was the only one to ride an ostrich! Dined on ostrich steaks and omlettes. Night at the four star De Oude Meul Country Estate and Game farm . Slightly utilitarian, in the middle of nowhere (ostrich country - 90% of world output). But opportunity for personal communication with birds before 7 a.m. and a nice breakfast!
Thursday 30/12: Traveled on the wine route. Visited Mossel Bay and its maritime museum which traces Portuguese maritime history from 1488 and has a replica of Bartolomeu Dias' caravel which rounded the Cape. Then on to Swellendam founded in 1746 by the Trekboers. Ate and stayed at the Stellenbosch Hotel.
Friday 31/12: Wine route to Cape Town. Visited Stellenbosch first and had wine tasting at Seidelberg winery in Paarl. Interestingly enough their historic label 'De Leuwen Jagt' has now been relegated to their second string wines. Visited Franschoek established by French Huguenots in 17th Century and the museum there. Headed for the Cape. Visited the Victoria and Alfred Waterfront in Cape Town. Dinner at the Societi Bistro. Stayed at the Courtyard Hotel.
Saturday 1/1: Back to Cape Town. Boat tour to Duiker Island at Hout bay to see the seals. Visited the Cape of Good Hope National Park and walked to Cape Point and Cape of Good Hope. Visited the Kirstenbosch botanical gardens, the city of Cape Town and the Malay district. Stayed at same hotel.
Sunday 2/1: Morning free. Spent at Victoria and Alfred Waterfront and the Cape Town aquarium. Seafood lunch at the Ocean Basket restaurant. Since Table Mountain had been closed due to wind for several days, visited the historic Groot Constantia winery, founded in 1685, a favourite of Napoleon, and tasted the offerings there. To airport at 5 p.m. and long flight from Cape Town to Frankfurt, across to Paris and eventually back to Brussels, arriving at 2 p.m. Monday.




---

Go to Sth. Africa 2004 pictures from others page


Return to main South Africa page


Or go to data for the index to Lenn*n entries.


Alternatively, go to my railwayana.com pages for Irish railway data


Or even, go to my railwayana auction price pages